Fully Executed Agreement to Vote on at Annual Meeting

Thanks to Jim Hilliard's expert and tireless service to our congregation, we have a fully executed agreement with St. Bart's Anglican Church to vote on at our Annual Business Meeting (Sunday, June 27, 2021 at 6:30 pm). By clicking the image below, you will be able to open a PDF of the executed agreement to review.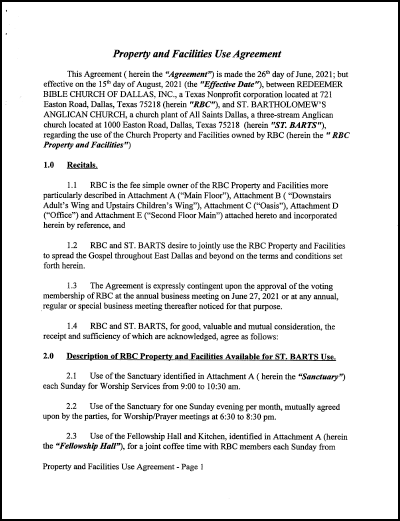 INITIAL INFORMATION: Possibility of Sharing our Facility with St. Bart's Anglican Church
With our announcement yesterday (June 13), many will want to hear more detail of our proposed facility sharing agreement with St. Bart's Anglican Church. David Larlee, the Rector, approached us to ask if we'd be open to the possibility. On May 17, Kent gave him a tour of RBC and recommended that we meet with their leadership. On May 27, the elders, Kent, Jacob, and Jim Hilliard met with the leadership team from St. Bart's in our Fellowship Hall to begin discussing whether it might work. On June 10, we gathered our elders, staff, deacons, and the EAC to answer questions and consider how we would pull this off and  what problems might hinder it. By the end of the night, the folks in the room voted overwhelmingly to pursue the facility share. We may have something change last minute, but we're hoping to have a signed contract pending congregational approval by the Annual meeting on June 27.
St. Bart's is a church of about 100 that is currently meeting in the Central Lutheran Church on Easton at 5pm on Sunday afternoons. St. Bart's is growing, but with mostly young families, they really want to hold a service on Sunday mornings and were looking for a place with more facilities for their children. They are part of the Anglican Mission in the Americas, a conservative wing of the Anglican Church that separated from the majority because of the majority's slide from historic Christian theology and practice. An example of this is the American Episcopal Church's acceptance of gay marriage and ordaining LGBTQ+ clergy. The AMiA also felt that there wasn't enough emphasis on evangelism, discipleship, or church planting in the majority of Episcopal churches.
The most conservative Anglican Bishops are in Africa and the bishops agreed to send two of their bishops to begin a new missionary work in the U.S. in 2009. The missionary movement now has about 15 churches in the U.S. As we got to know one another, we discovered shared connections. Bill and Lynn Hendricks (son of Howard Hendricks and head of the Leadership Center at DTS) and Michael Ortiz (a DTS professor) all attend the church. We also shared values. It would be exciting to show our neighborhood that Christians can love each other even though we come from differing backgrounds and traditions. Their theology matches ours almost point-by-point.
As we've talked, a tentative plan is for St. Bart's to use the Sanctuary from 9am–10:30 am and we would continue to meet at 11am. We would use the Adult education areas when they're doing worship and then switch. We've talked about combining our nursery and children's ministries. They have lots more kids and it might give our kids a better opportunity to develop Christian friendships. We've also talked about a fellowship time between services to get to know each other better. We could potentially combine the churches to offer an Ash Wednesday or a candlelight Christmas Eve service.  St. Bart's would pay us a monthly rental fee (around $4,000/month).
It's important to note that this isn't a merger of the two churches. Each of us would continue to have our own leadership, worship services, and programs. We would have a fuller parking lot and pass more friendly faces in the hallways, but RBC would remain RBC. Brad Hepp has helpfully pointed out that in Redeemer's beginning, we rented from a Baptist church, a Seventh-day Adventist church, and a Vietnamese Catholic church  before we got into our present facility. Now we have the opportunity to bless another church and at the same time strengthen ours.
If you want to keep up with these posts, please sign up below.
Kevin Stern
For the Elders
Sign up for updates to this information: